When you get a Jeep, one of the first things you think about are modifications you will be doing to the car. The nice light bar, the spotlights, a new hard or soft top, but those are things you can get later. We are going to point out the top 5 mods you should add to your jeep starting in chronological order.
1. Tires
Not necessarily Mud Terrain (M/T) tires but this matters where you live or go often also. If you are someone who uses your Jeep as a daily driver, you really won't need Mud Terrain tires but rather All Terrain (A/T) tires. This will help lower the outside cabin noise of your wheels so it doesn't sound like a monster truck is coming down the street.
If your Jeep is mainly for off-roading and you take it out mudding or higher altitudes then you would definitely need M/T tires. This will help you grip to the surface your tires are on rather than slide. Size also matter with big swamper tires helping giving you more grip and traction rather than smaller size tires or treads. Once again, remember that your car will sound louder and much more annoying with bigger tires.
2. Winch
A winch is very important because its your soul anti­trap device that will free you if you get stuck, especially when you are alone. You can tie it to a tree and pull yourself out of a mess like a self tow truck. This is also true when a Jeep rolls over, you can use a winch to get you back up.
3. Lift
Most of the time, a lift is the first thing a Jeeper would do to their car and there is a very good reason for it. Not only does it help aesthetically but also for off-roading when you need good ground clearance. Driving over rocks can hurt your differential and scrape the undercarriage of the car resulting in broken Jeep parts. However there are different kinds like spring lifts that are meant for off-roading on big rocks or mudding and there are solid coil overs that are meant to be for off road racing.
4. Lockers
Lockers lock the differential and make both your wheels spin at the same time to improve traction. Be aware! You cannot put your lockers on in the street and drive them around! All it is, is a button to lock them together and help them spin the same amount of revolutions a minute. Some Jeeps like the new JK models come with them but most do not.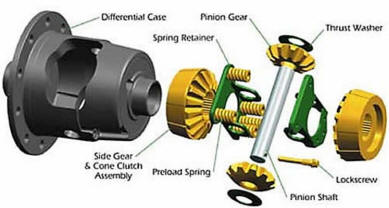 5. Rock Sliders
This one is mainly for being in tight spots or having a high enough Jeep to need a step tool. When you are surrounded by rocks and your Jeep slides, rock slider prevent the side of your Jeep from getting hit in order to protect the body. They are also good step tools to step on to get onto or exit your Jeep. Some people might even call it a step ladder.
Regardless if you pick these or not, your Jeep is your Jeep, no matter how it looks. Put your
blood, sweat, and tears into it when you build it!